The Easiest Way to Sew a Scrunchie | How To Make A Scrunchie
Want to know a fool-proof method on how to make a scrunchie? This is my foolproof method that works every time and can be completed in 5 minutes!
I love making scrunchies. I am constantly making scrunchies for gifts, to sell, and for my own personal use. Follow the exact method I use to make scrunchies quickly and efficiently!
This post is about How To Make A Scrunchie
How to Make a Scrunchie
What You Need:
The fabric of your choice ( 21 – 25 inch by 3.5-4 inch)
1/4 inch elastic (7-9 inch)
needle and thread
sewing machine (optional, this can be hand-stitched)
safety pin (optional)
pins
Step 1:
Cut your Fabric and Elastic to size.
The fabric length doesn't need to be exact. same with length. if you are a beginner sewer, make sure to leave extra room for seam allowance.
With the elastic, I like to use 9 inches because that leaves room to tie it off in later steps.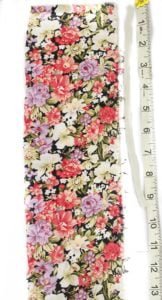 Step 2:
Now fold the fabric in half lengthways. Make sure you have the right sides together! Place pins along the length of the edge to hold the fabric in place ready to sew.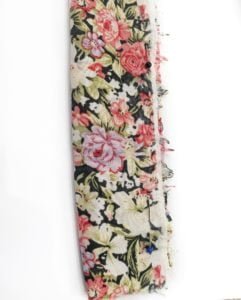 Sew closely (hand or machine) to the edges of the length of the fabric.
Once seen together put the fabric right way out.
Step 3:
Next, we are going to thread the elastic. This can be difficult to do. So I recommend attaching a safety pin to one side of the elastic and pinning the other side of the elastic to one end of the fabric.
Once the elastic is threaded through, we are going to tie it off. You can use your wrist to adjust how tight you want to make it. This is why I recommend starting with more elastic. I also recommend making 3 knots in the elastic to ensure it doesn't undo.
Step 4:
We are now in the finishing steps of the scrunchie.
On one end of the scrunchie opening tuck in the fabric, next, we are going to line up the seams on the scrunchie opening. Shove the non-tucked-in opening into the tucked-in one. The seams should line up
Now hand stitch the two openings closed.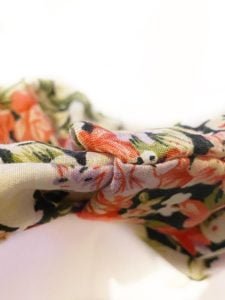 Congrats you have now made the perfect scrunchie. I hope you enjoy making these for your friends and yourself.
This post has been about how to make a Scrunchie.
If you enjoyed this post, you may also like:
Hand Easy Embroidery Leaf Tutorial