This is seriously the easiest and most adaptable recipe of chocolate bark to ever exist. I can actually make this recipe in under 5 minutes too! Which is such a bonus.
5 Minute Chocolate Bark
This chocolate Bark recipe requires two things, chocolate and your choice of nuts, dried berries, coconut shreds, etc. This recipe is super fast to make and the longest part is melting the chocolate. It can be melted in like one minute if you have a microwave, unfortunately, I don't own one so I have to use the double boiler method which takes a little longer, but I can still get the recipe finished in under 5 minutes!
What Chocolate to Use?
So which chocolate should be used? Literally, anyone, if you like white chocolate go for that, if you like a mix go for that. My favorite is dark chocolate so I used dark chocolate in this recipe
What nuts, and dried fruits to use?
Again, this is completely up to personal preference. In this bar, I used almonds, Brazilian nuts, coconut shreds, and pumpkin seeds. sometimes I like to add dried cranberry or dried raspberry. But really just have fun with it and experiment until you get your favorite combination. The combinations are truly endless.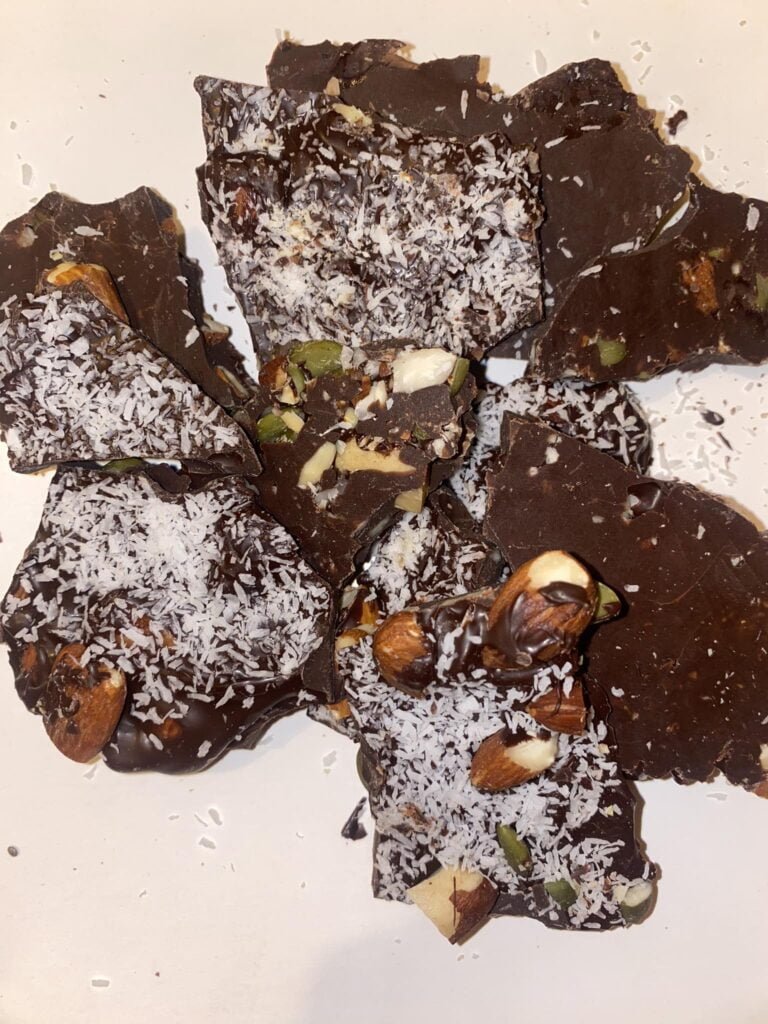 5 Minute Chocolate Bark
Try out this quick and easy chocolate bark recipe that can be completed in under 5 minutes!
Ingredients  
400

grams

Chocolate Melted

1

cup

nuts, dried fruits, coconut shredded
Instructions 
Start off by cutting your nuts, dried fruit etc. Be rough with this, it doesnt need to be perfect.

Prep a tray with baking paper

Pour the chopped nuts and fruits on the baking paper

Melt your chocolate, either using the double boilder method or the microwave

Once melted pour over the nuts and spred thinly

If not added before add some shredded coconut or anything else you want

Once set, break into pieces.
Notes
Put in Refridgerator for a quick set!
Try different Chocolate, nut, and fruit Combos.
And that's it! It is really that simple. I love this as a quick sweet treat. I find it so easy to over-indulge on confectionary but with this chocolate bark, I find it a lot easier to limit myself while getting in some nutrients.
If you enjoyed this recipe why not check out my others?
The Best New Zealand Ginger Crunch Recipe
How to Make Cinnamon Pinwheels Recipe