Fishbone Leaf Stitch Tutorial for Beginners
Learn the fishbone leaf stitch with this leaf stitch hand embroidery tutorial. Hand Embroidery leaves are gorgeous and are one of the most common things stitched in hand embroidery. There are many different types of hand embroidery leaves. I will be showing you the most simple and fastest hand embroidery leaf. This is my go-to way to stitch a leaf. The technical term for this stitch is called the fishbone stitch. It is very quick and simple but really adds the next level of detail to any hand embroidery project.
" This post contains affiliate links at no extra charge to you, what does this mean? This means if you choose to purchase an item using a link from this page I get a small commission at no extra cost to you "
What is the FishBone Stitch
This leaf stitch is called a fishbone stitch, or the fishbone leaf stitch. It is called this name due to it looking like a fishbone. While it looks complex and not beginner friendly, this stitch is actually the opposite of that. This fishbone leaf stitch is completely perfect for beginners in fact it is one of the first stitches you should be learning that's how easy it is!
Hand Embroidery Leaf Tutorial | Fishbone Embroidery Stitch Tutorial
This is a step-by-step tutorial with pictures of how to make a hand embroidery leaf. For this tutorial, I am using all six strands of embroidery floss. For beginners, I recommend using 6 strands of embroidery floss, as it is easier to use and easier to undo mistakes.
Step 1 – Draw your Hand Embroidery Leaf Pattern
Draw your hand embroidery leaf design ( you can use pencil but pens for embroidery are available, I will link some great beginner embroidery items at the end of this tutorial)
Simply draw an outline of a leaf
Draw a line through the middle.
This is just a simple quite rough pattern just to use as a guide.
Step 2 Make the Base
Starting at the tip or top of the leaf, pull your embroidery floss up through the back of the fabric
push it back through at the bottom of the leaf.
You should have an embroidered line right through the middle where we originally drew it with the marker.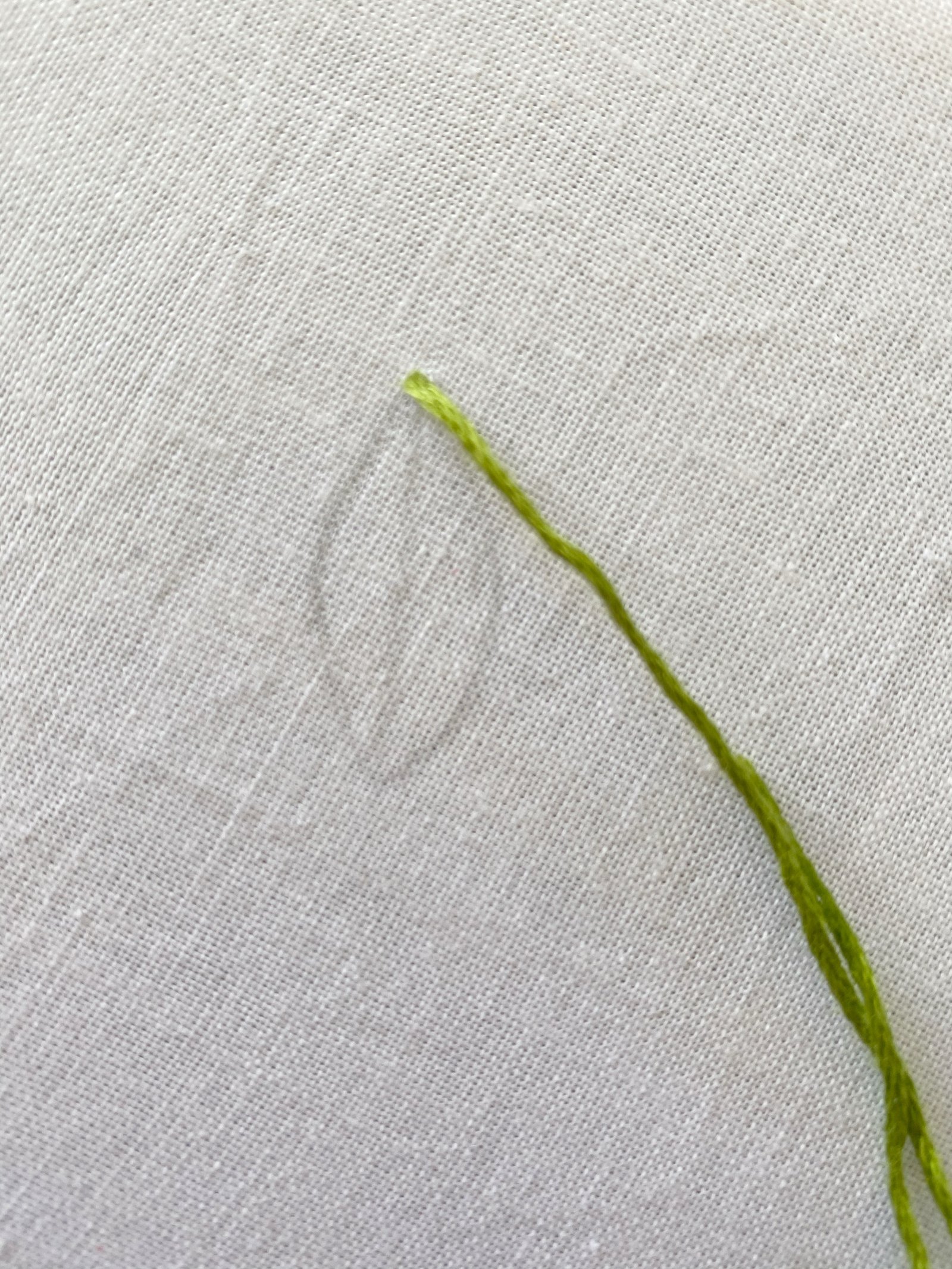 Step 3 Start filling it in
Slightly to the side of the top of the leaf bring your needle through.
Make a diagonal line crossing over the centerline but only slightly and just bring the needle down to around the middle of the centerline and push the needle through
Repeat on the other side, making a mirror image of the other side.
Let's start Step 4 Repeat the process
Repeat this process.
Follow the outline you drew.
Every time you bring the needle to the centerline bring it a little bit lower eventually reaching the bottom of the leaf.
Step 5 – Hand Embroidery Leaf is Complete!
Finish the leaf
tie off the floss at back
You should have now just finished the embroidery leaf. With this hand fishbone stitch you can make the leaf how big or small you like. It is completely up to you. It is even possible to use different colors, doing this will definitely add so much more depth to any hand embroidery art piece.
What about the Embroidery Rose in the Picture?!
The rose you see next to the fishbone leaf stitch we just completed is a wagon wheel rose. If you are interested in learning how to make this rose, I have a full step-by-step tutorial with pictures that is perfect for beginners.
Tips for Beginner Embroiderers
Make sure your plan your color scheme beforehand
Use the right type of needle
Use the right fabric
Practice makes perfect
If you are looking to avoid those beginner embroidery mistakes, check out this article so you can be a pro in no time.
Avoid These 10 Common Beginner Mistakes in Hand Embroidery
Items you should buy if you are a beginner at Hand Embroidery
These are some items I wish I had when I first started my hand embroidery journey!
Water Soluble Pen
Having a proper pen to draw embroidery patterns with is amazing! When I first started embroidery I used heat pens but found the patterns would fade way too easily so I changed to water soluble and has been a great improvement.
Needles with a Large Eye
If you have bad eyesight or shakey eyes, don't be put off on learning your new craft. Having embroidery needles that are still sharp but have a large eye is really a game changer. Here are some decent ones linked below
Embroidery Scissors
I have these exact scissors and I love them! When I first got these scissors I got them because I thought they were pretty but they are incredibly handy and make cutting the embroidery floss easier, especially at the back of the project because they are small and can fit into those small gaps.
Embroidery Hoop
Not using an embroidery hoop is a very common beginner embroiderer mistake. So I can't stress enough that get yourself an embroidery hoop! This will change the way you embroider forever. You only need one to start with and it will last you literally ever.
That's all for this embroidery tutorial…
I hope this leaf stitch embroidery tutorial has given you some sort of direction for how to simply stitch a hand embroidery leaf. There are a lot of different methods but this one is perfect for beginners. If you enjoyed this blog post why not check out some of my other posts on embroidery?
You can support me by checking out my Etsy Shop, I have a variety of things, from handmade things to patterns to paintings: