Want to make a special ornament for someone special or for yourself? Here is a tutorial and free pattern for how to make a handmade ornament.

Handmade Ornaments are something special to make for your tree or house.  These also make a great gift for a loved one. They don't take much time and can be made with scrap material.
For this example, I used an old embroidered and lace doily. This is a great sewing project for beginners and children.
This blog post comes with a free pattern download giving you the freedom to choose the size you want to make it. To make this ornament a Christmas ornament, or Halloween ornament, I suggest using Christmas-themed material and using doily trim for the wings.
This post is about How to make a handmade ornament | Handmade Bird Ornament.
HANDMADE ORNAMENT | BIRD ORNAMENT
What You Need:
The Pattern ( Choose how big you want to make your ornament, I did X2)
Old Fabric
Doiley
Sewing machine
Stuffing
Embroidery Thread and Needle
Pins
Scissors
STEP 1: Draw and Cut
Draw your pattern and cut your fabric. You will need two pieces of fabric. I have used the embroidery part on an old doily for my fabric.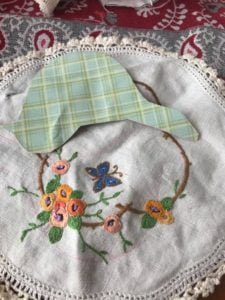 Step 2 | Add Wings
Add your wings. For my wings, I used a piece of the doily lace from the outside. I cut it to size and stitched it on where I thought was appropriate. I did this for both sides.
Step 3 | Add Tie
For the hanging tie, I used the doily lace again. fold the tie in half and pin it on the top of the pattern, as shown in the pattern.
Step 4 | Sew
With right sides together, and the tie pinned in place sew around the edge of the fabric, sew with a seam allowance you are comfortable with. Be sure to stitch over the hanging tie and leave a gap at the bottom of the bird so it can be turned right side out later.
Step 5 | Snipping the Curve
Next, make small cuts all around the seams.
Step 6 | Fill
Turn right way out and stuff with the stuffing of your choice. Fill it so it is fairly firm. if you want it scented. Splash some incense oil in the stuffing before putting it in the bird.
Step 7 | Hand Stitch the gap
Next hand stitch the bottom gap closed.
Step 8 | Adding the Eye
This step can be completed at step 1 if you want a more intricate embroidery design. I did a simple black eye so it can be easily completed here.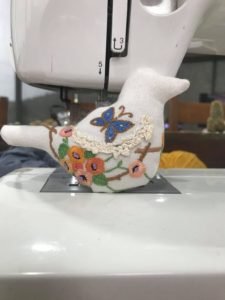 Step 9 | Finished Product
You have now finished your Handmade Ornament. I added a little tassel tie for decoration around his neck
Enjoy this ornament on all holidays and all events.
This blog post was on how to make a handmade ornament.
If you enjoyed this blog you may also like:
Handwarmers – Small Sewing Project