Are you looking for a way to infuse your vintage wardrobe with a fresh twist? Look no further than the pinafore dress! In this article, we'll guide you through a fun and easy DIY project that will transform a simple wool blanket into a retro-chic pinafore dress that's bound to turn heads. Follow our simple instructions and unleash your creativity as you design a one-of-a-kind piece that suits your unique style. Get ready to channel the swinging 60s and discover new ways to showcase your vintage collection.
Materials you'll need
To get started on your pinafore dress project, the first step is to gather the necessary materials. Here's what you'll need:
A wool blanket in the color of your choice
Scissors
Measuring tape or a ruler
Pins
Sewing machine or needle and thread
Once you have all these items on hand, you're ready to move on to the next step: cutting your blanket to the desired size and shape.,
Step one: Cutting your blanket
To start creating your retro pinafore dress, the first step is to cut your wool blanket to the desired size and shape. This step is crucial since it will determine the final look of your dress. Take your time measuring and cutting the fabric to ensure it fits properly and looks polished.
Before you cut into your blanket, consider the size you want for your dress. Take into account your body measurements and the style you want to achieve.
You should have the following cut-out pieces:
1x front piece
1 x backpiece
2 x shoulder straps
How to cut the Front Piece Panel
Choose a dress that fits you well, have your material folded over, and line the dress up at the halfway point. It is easier if the dress is inside out. Draw the outline of the dress. I made a V neckline and chose the depth myself.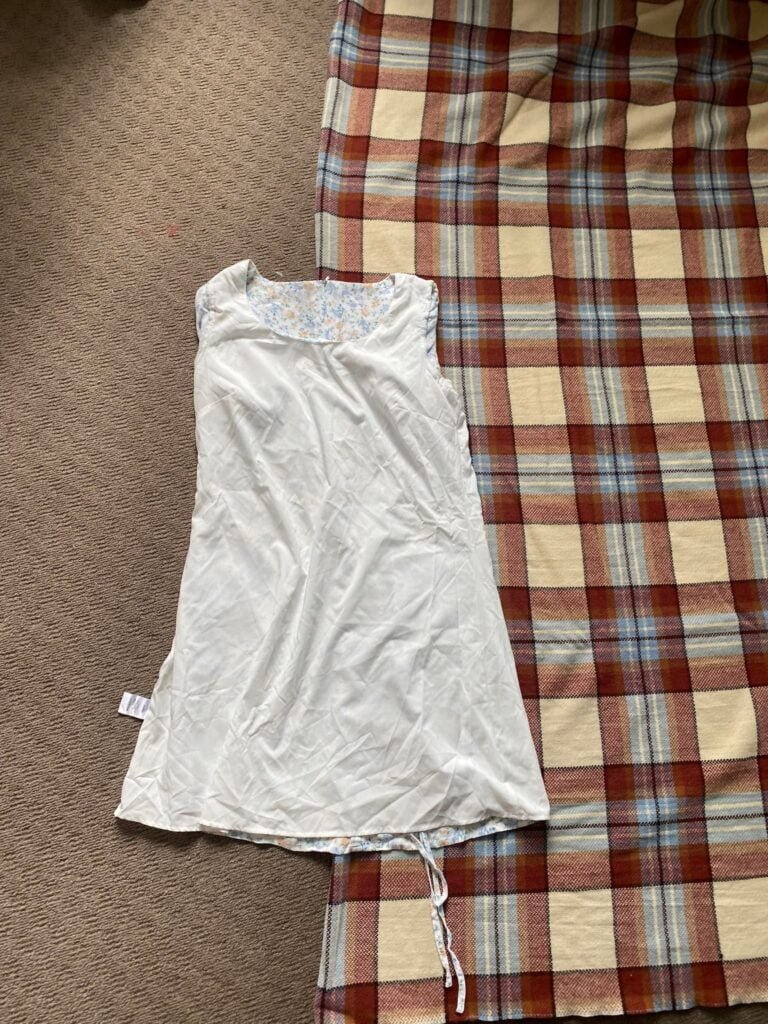 How to cut the Back Piece Panel
Do the same as the front panel but with the back of the chosen dress. Keep the back of the dress the same as the dress that fits well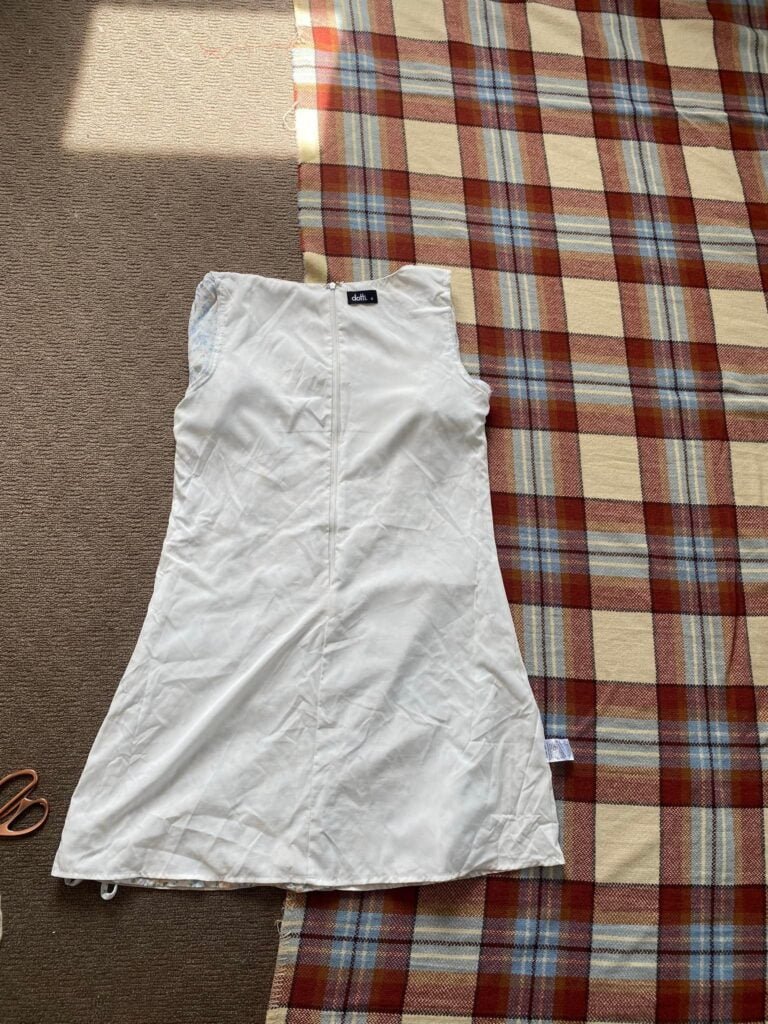 How to cut shoulder straps
Hold the front panel up to you if you don't have a manikin. A pinafore dress should hang slightly lower than a normal dress. Choose the length you want it to hang and make shoulder straps according. Mine were 6 inches.
Remember to be precise with your cuts and cut slowly, ensuring that each piece is identical in size and shape. Once you have all the pieces, make sure you label them accordingly to avoid any confusion during the sewing process.
With your blanket cut into the desired shape and size, you're now ready to move on to sewing.
STEP TWO: Assembling your dress
With your carefully cut fabric pieces before you, it's time to begin assembling your dress. Start by laying out the pieces in front of you to ensure you have everything you need.
How to make a simple Pinafore Dress
Sewing Step 1:
Start by hemming the neckline and arm holes, and straps.
2 :
Attach the straps to the back and front panels.
3:
Sew the back and front panels together down the sides
4:
Remember to take your time and stay focused. Rushing through this step could lead to mistakes that may be difficult to correct later on. Keep your seam ripper close by just in case you need to make any adjustments.
Once you've successfully assembled your dress, it's time to move on to adding those finishing touches that will take it from homemade to retro chic.,
STEP THREE: Finishing touches (optional)
Remember to take your time and stay focused while adding the finishing touches to your pinafore dress. This is the step where you can really add your personal flair to the dress and make it unique. You can add buttons, pockets, or even embroidery to give it that retro feel.
When adding buttons, make sure they are evenly spaced and aligned correctly. Sew them on securely to ensure they don't fall off during wear. Pockets can be added to the front or sides of the dress and can be functional or decorative. Experiment with different embroidery designs to make your dress stand out from the rest.
Taking the time to add these finishing touches will make your pinafore dress look professionally made and stylish. Now that you've completed your dress, it's time to explore different ways to wear it. Check out our style tips on how to wear your new pinafore dress.,
Style tips: How to wear your new Pinafore Dress
Now that you've completed your pinafore dress, it's time to show it off! Luckily, pinafore dresses are incredibly versatile and can be styled in a variety of ways. Here are some tips on how to wear your new dress:
Layer it over a basic t-shirt or blouse for a casual, daytime look.
Dress it up by wearing a collared shirt or blouse underneath.
Try wearing a turtleneck sweater and tights underneath for a cozy winter look. (my fave look)
Pair it with ankle boots or sneakers for a casual, laid-back vibe.
For a more formal event, dress it up with strappy heels and elegant jewelry.
Remember to play around with accessorizing, too. Try adding a scarf, statement necklace, or hat to elevate your outfit even more.
How to Sew a Pinafore Dress ( Quick Guide )
Now that you have a better understanding of the pinafore dress and how to style it, it's time to learn how to sew one yourself. Here are some basic steps to get you started:
Choose your fabric: Select a fabric that suits the style of the pinafore dress you want to create. It should be sturdy enough to hold its shape but flexible enough to move with you.
Take your measurements: To ensure a proper fit, take your measurements before you start cutting your fabric. Measure your chest, waist, hips, and desired length of the dress.
Create your pattern: With your measurements in hand, create a pattern on paper or cardboard. This pattern will serve as a guide for cutting your fabric.
Cut your fabric: Lay your pattern on top of your fabric and cut it out. Remember to leave the extra fabric for seams and hems.
Sew the pieces together: Take each piece of fabric and sew them together using a sewing machine or by hand. Remember to sew the seams inside out to create a finished look.
Hem your dress: Once you have sewn all the pieces together, it's time to hem the dress. Fold the bottom edge of the dress over and sew it in place.
Add finishing touches: Finally, add any additional finishing touches you desire, such as buttons, zippers, or pockets.
With these steps complete, you should have a beautiful pinafore dress that you made yourself. Happy sewing!
How to Make A Simple Pinafore Dress from a Wool Blanket
In conclusion, creating your own pinafore dress from a wool blanket is an easy and fun DIY project that can add a touch of retro chic to your wardrobe. With our step-by-step guide and style tips, you can make a unique and perfect fit that reflects your personal style. Remember, whether you pair it with casual flats or dress it up with bold jewelry, your pinafore dress is sure to turn heads and make a statement. So, what are you waiting for? Grab a wool blanket and get started on your next fashion adventure! As Coco Chanel once said, "Fashion is not something that exists in dresses only. Fashion is in the sky, in the street; fashion has to do with ideas, the way we live, what is happening."
If you enjoyed this article, why not read some of my others:
If you love natural skincare then check out our Etsy store: