2 Ingredient Bird feed for Sap Loving Birds. Let's learn how to make homemade bird energy food to keep your backyard birds warm during the winter months.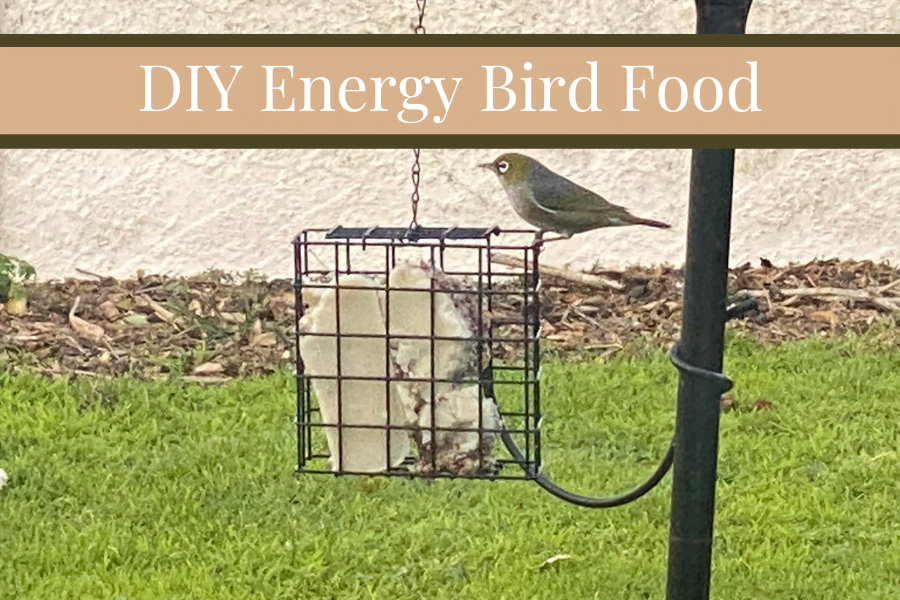 Homemade Bird Energy Food
This is so easy to make and it attracts all the right birds to my yard. I love to make this for my native bird friends such as Tuis and Wax Eyes. Birds need high levels of saturated fat, such as lard. Lard is great for birds because it provides energy and warmth. These Bird seed bards are especially good for your bird friends in winter to help them get through the colder nights.
Ingredients you will need
Lard
Any sort of fat will do, birds love fats. And the good thing is it's completely healthy for your bird friends. In this tutorial, I use beef Dripping.
Bird Seed
I just use wild bird seeds from my local supermarket. if the birds you want to attract are smaller you might want to use smaller seeds than larger ones.
Method
Step 1
Melt the lard. You can use the microwave or do it over the pot, it doesn't have to be completely melted just soft, it's important you don't let it boil. Be careful not to burn yourself
Step 2
Add bird seed
Simply stir in the birdseed. The measurements are completely up to you. I did 50/50, but you can add more seed and less lard or more lard and less seed.
Step 3
Pour into containers and refrigerate. The birdseed bars are basically finished.
Step 4
Once completely set, cut up and place into your feeder. Then watch the birds come in, it may take a day or two for the birds to notice the feed in the bird feeder, especially since this won't attract regular wild birds like sparrows but usually different ones.
So will the birds come now?
yes! The birds will come, Don't expect any for a couple of days until they figure out where the feeder is. But because you are using lard you can expect different types of birds than your regular sparrows, for example when using lard I commonly attract wax eyes and Tui, these birds are native to New Zealand and love sap and fats. The regular birds will also love this but not as much as the sap-loving birds. See the results below
And that is how to make Homemade Bird Energy Food
If you try this recipe out, let me know if birds come flocking to your backyard. Remember this is a great treat for birds in the winter because the fats help to keep them warm. I would love to hear your thoughts on this in the comments below, and if you loved this Garden DIY, why not try one of my others: