If you are reading this blog post, it probably means you are taking an interest in learning the art of embroidery. The first step is to set up an embroidery hoop. With any embroidery project you work on, you will need to use an embroidery hoop in all of them, so it's best to make sure that the embroidery hoop is set up properly for the best results.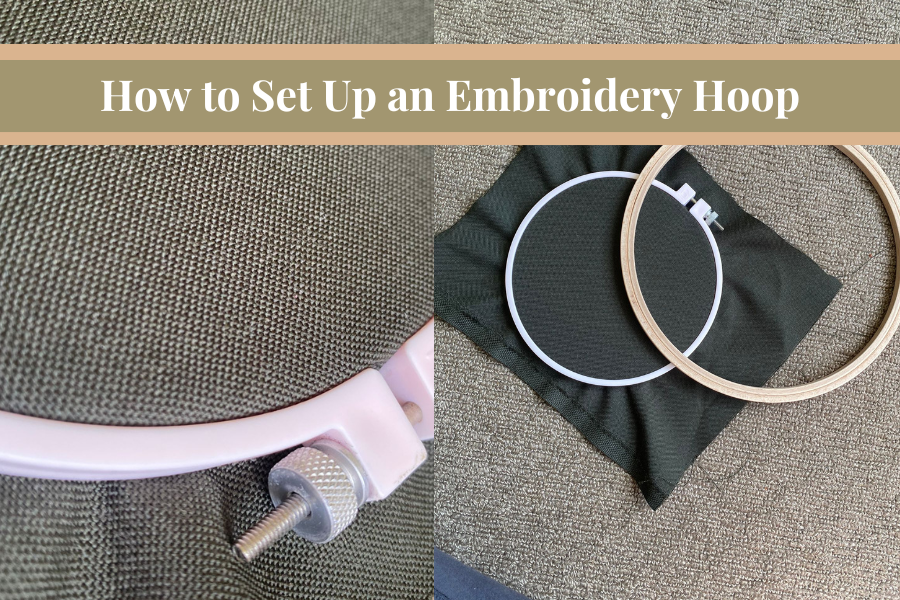 "This post contains affiliate links at no extra cost to you, What does this mean? This means if you choose to purchase a recommendation below I get a small commission at no extra cost to you"
Setting up an Embroidery Hoop
Despite what many people think, it is best to always use an embroidery hoop, if you don't believe this try to embroider a simple pattern without a hoop and then try again with a hoop and you will see a huge difference in the end result.
Other Useful Embroidery Blog Posts
10 Best Embroidery Kits for Beginners
The Absolute Essentials for the Beginner Hand Embroidery Artist
25 Free Embroidery Patterns for Beginners | PDF Download
Parts of the Embroidery Hoop
An embroidery hoop consists of three parts, two hoops, and a screw. One hoop is slightly smaller than the other and the screw is used to tighten and loosen the hoops to each other.
The Steps
Separate the two hoops
Place the smaller hoop on a flat area
Place the fabric on top (line it up how you want it to be)
Place the larger hoop on top and press down
Tighten the screw
Make sure the fabric is taut (you can pull the fabric a little so it is taut)
Remove fabric from the hoop when not stitching.