These are the best free crochet granny square patterns for beginners out there. Crochet Granny Squares are kind of amazing! There are so many different patterns out there these days, so have made a list of the 5 most used free crochet Granny Square Patterns. All of these patterns are free along with the tutorials/step-by-step instructions.
What are granny squares used for?
Blankets, Bags, Clothes, and the list goes on. Granny squares can really be the base of anything you crochet. They are very adaptable because you can choose the size, color, and how you want to stitch them together. There are hundreds of different granny square patterns out there, literally so many to choose from. Below are some of the most used granny squares that are for beginner to intermediate level. If you are new to crochet, I recommend learning just the classic granny square or the solid granny square first and really mastering those two before attempting any other granny square patterns. Remember to keep practicing.
My latest Granny Square Project – I used Free Granny Square Patterns I found Online
I made this blanket, using classic granny square, solid granny square, and the flower, motif granny square, actually called a willow square, a tutorial for that square isn't included in this list as I wouldn't include it because this list is for easy to intermediate level. I was still learning to crochet when I started this blanket. My first plan was just to make a classic granny square blanket with different greens, but as I started learning more and more granny squares, I decided to combine them into one blanket. I really love the end results and especially how I used white to join the squares.
5 Free Crochet Granny Square Patterns
Enjoy these free crochet granny square patterns along with step-by-step instructions. To access these patterns, click the title of the pattern or click the underlined text.
Timeless, gorgeous, and very easy to learn, the classic granny square. If you have never made a granny square or actually made anything in crochet, you are going to want to master this one first. Don't feel intimated and put off if your first try doesn't look anything like the picture, I remember my first 3 times trying to make a classic granny square and they all turned out like circles! Practice makes perfect! I found this tutorial by The Spruce Crafts a great, clear, and detailed tutorial on how to learn to make this class granny square. Find the full tutorial here
Not a fan of the holes in the classic granny square, then try the solid granny square. Very similar pattern to the classic granny square, some might even consider the pattern for this easier. If I am making a granny square blanket using a variety of different granny squares, I usually always include this type of solid granny square in the blanket. I think how solid it makes it really ideal for a blanket. I loved this tutorial by Sarahmaker. You can find the free and full tutorial and pattern here.
I love this pattern. You might have seen this sunburst granny square on TikTok or Instagram, it is very popular at the moment and this pattern really does look great in a bag, blanket, or cardigan. While I wouldn't count this Sunburst granny square pattern for beginners, It is something you should learn. This tutorial by Crochet365KnitToo is a great resource to learn this crochet square. For the Pattern and tutorial see here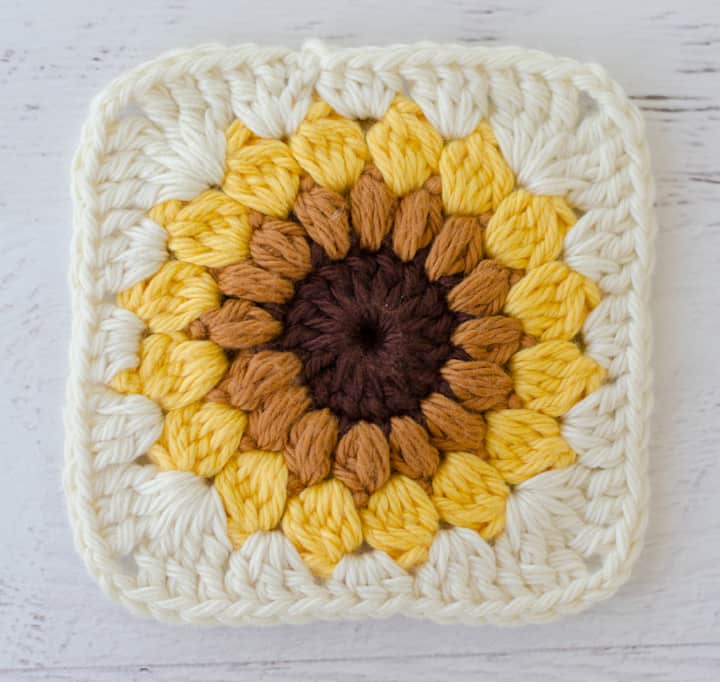 These are AWESOME and would make a super sweet baby blanket, or could even be made to be used as coasters. This does look complicated at first glance, but these Circle to granny squares are relatively simple with this great tutorial by JustBCrafty. For the free pattern and tutorial See here
This is just like the classic granny square at first glance but isn't. If you look closely there is more of a differentiation between the stitches, like little blocks, hence the name block stitch granny square. I wouldn't recommend this square for an absolute beginner, but something to put on your list of granny squares to learn if you are at an intermediate level. The way this pattern is written makes the granny square look very sophisticated which I love. For the very helpful free pattern and tutorial by Pattern Paradise see here
That's all the Free Granny Square Patterns For Now
These are the 5 most common and useful granny squares you should learn first. You will be making a lot of cool things with the above patterns. Would love to see any results you have!
Other Useful Free Crochet Resources
Crochet Terms Conversion Chart
Ultimate Guide of UK & US Crochet Terms | Conversion Chart
UK and US crochet Patterns have different terms which can get kind of confusing. This is a free PDF Download with the majority of the crochet terms you might need to convert.
Free Beginner Crochet Patterns
11 Free Easy Crochet Patterns for Beginners | Small Crochet Projects
Finding a decent crochet pattern when you are a beginner can be hard, especially when the pattern says it's beginner-friendly but really it's not. This is a well-researched list of free crochet patterns that are actually made for beginners.
Gifts for a Crochet Lover
27 Great Gift Ideas for Crochet Lovers
While this says gifts for someone else… you will probably find some useful items for yourself in this list too.
To conclude…
Crochet Granny Squares are a staple of crochet and the perfect beginner crochet project. Your crochet may not turn out perfect the first time. I remember my first granny square turned out more circle than a square. It took me four more attempts until I had achieved a basic granny square that was actually square, I remember feeling so proud. If you are in this position don't give up and keep trying, you will get there eventually!