This is the ultimate guide for a crochet conversion chart UK to US. I am always getting confused between UK crochet terms and US crochet terms, which is why I have made this US and UK Crochet Terms Conversion Chart with the most common terms. There is also a free download and printable PDF, no email sign-up is required at the end of this blog post. Download it, and have it stored and ready for use.
Learn to Read Crochet Pattern Quickly!
This crochet conversion chart UK to US is perfect for beginners all the way to those that are advanced because in this chart I include, the symbol, the written word, and the US, and UK terms. You can easily learn to read crochet patterns with this chart!
DOWNLOAD THE CHART HERE Keep reading for the online version and how to print
Why have a crochet conversion chart?
The use of a crochet conversion chart is beneficial in more than one way. Firstly it's a quick way to find the meaning of a crochet term from US to UK. So if your pattern is in US terms with a guide this can be quickly translated to UK terms if that is what you work with. Another reason for having a crochet conversion chart on hand is that it can help excel in your learning of the terms. In this chart, I have included the symbol, the written word, and the US and UK crochet terms. With this chart, you can quickly learn all 4 categories by heart!
Why the difference between the two is important?
The difference is important because your project won't work out! If you have a UK pattern but are using US terms, Your version will look different from the pattern. It may look warped, or be a different size. This is the same if you have a US pattern and are using UK terms.
How to tell the difference between US and UK terms?
This can be a little bit tricky. Most crochet patterns or crochet resources will state if they are using US or UK terms, and if they are not you should be able to tell with a few crochet abbreviations. A very easy way to tell if a pattern has been written in US or UK terms is to check for sc, single crochet. If the pattern is stating the use of an sc, single crochet this means it is using US terms. UK crochet terms call a US single crochet (sc) double crochet (dc) even though the stitch is exactly the same. It can get fairly confusing.
Note* The symbols below might not be exact but similar to what you see in patterns.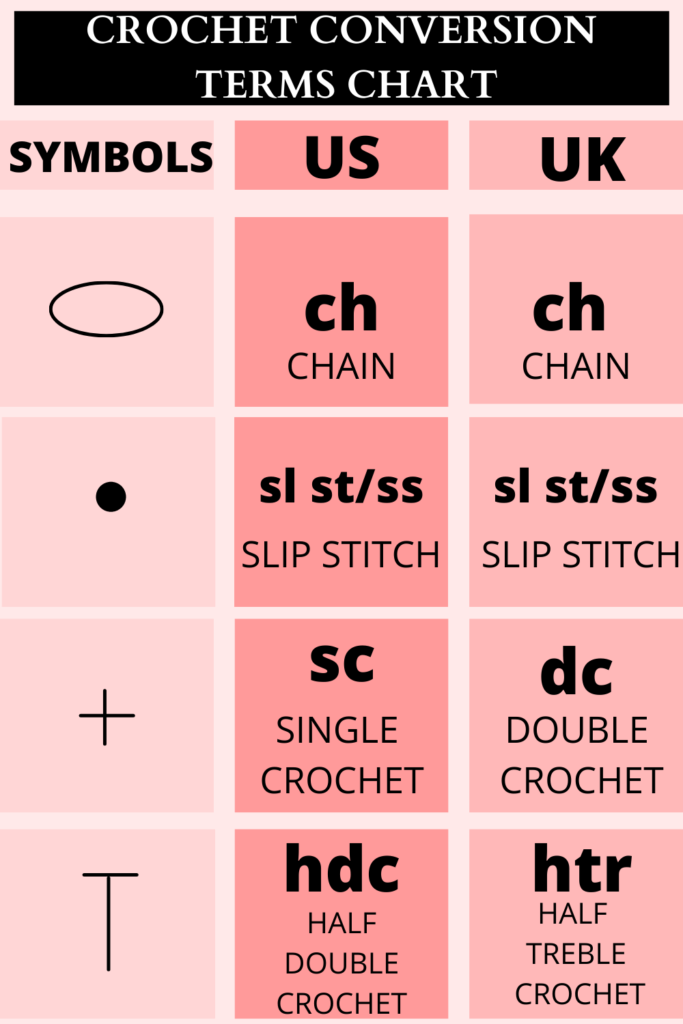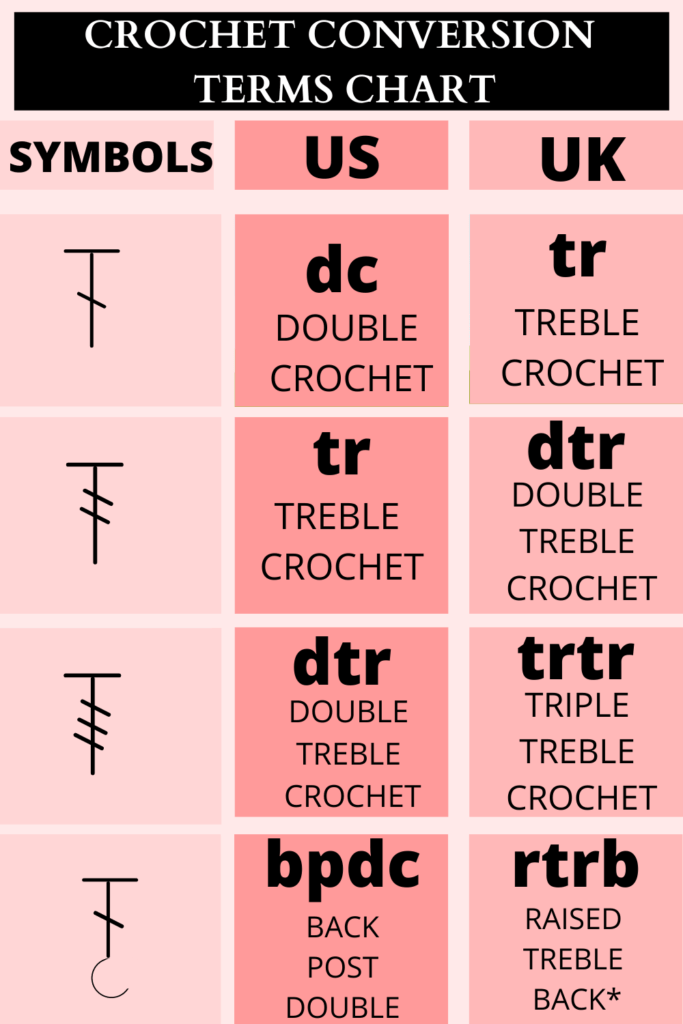 Crochet Conversion Chart Free Download PDF or Print PDF
Is there anything missing?
Apart from the starting stitches such as the magic circle/ magic ring this guide is pretty comprehensive. It covers all the main stitches, if you come across a crochet stitch that isn't here, it means that stitch is pretty rare and not commonly used!
How to Print Your PDF Download
If you are going to print this PDF, your version might have some words cut off. To fix this, Go to the scale settings under advanced settings and change it from default to fit the printable area.
Hopefully, this chart makes your next crochet project a lot easier. Learn to read crochet patterns quickly by having this on hand! No more googling what each term means. Have this printed out or ready to go on your phone for your next crochet project.
Here is a free crochet pattern for beginners if you want a little bit of a challenge!
For more crochet-related content…