These are the best embroidery kits for beginners. Learning embroidery is a great skill to have. Having an embroidery kit that is specially made for beginners makes the learning process a whole lot easier. Learning embroidery has become very popular lately which is a great thing for those wanting to learn. That means that there are more embroidery kits available on the market for people wanting to learn. I have searched the internet and gathered the 13 Best embroidery kits for beginners. So let's start the list.
Embroidery Kits for Beginners
All of these kits have everything a beginner would need to make a beautiful embroidery design. I have researched and found what I think are the most suitable embroidery kits for beginners to start with. These embroidery kits would be appropriate for ages 13 years and older in my opinion.
" The links on this page are affiliate links, meaning if you choose to make a purchase I will get a small commission at no extra cost to you! "
Learn how to make a basic floral embroidery stitch with this embroidery kit. This kit has everything you need to make a wildflower scene.
While this hand embroidery kit suggests this is for intermediate levels. I think this is appropriate for beginners. Most of the stitches used in this are for beginners. This embroidery kit is very trendy and will look great in a teen girl's room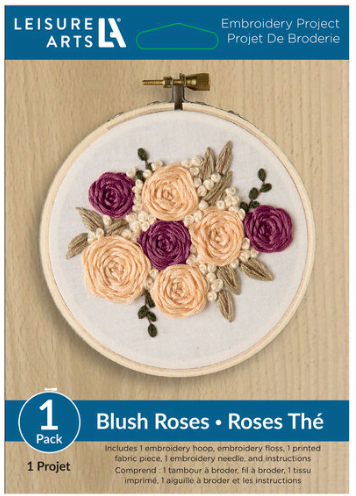 Embroidery Roses are always perfect for a beginner to learn. Embroidery Roses seem very complicated to stitch but are actually quite simple, so this is the perfect embroidery kit for beginners to learn how to do that.
This rainbow embroidery kit is seriously incredibly ideal for beginner embroiderers. The stitches are quite repetitive meaning you will most likely be fluent by the end of it. This is also a trendy design to hang in a room at the end of it.
This Bee Kind embroidery Kit is a lot easier than it looks. This kit has everything you need to make this beautiful design. Perfect for a beginner that wants to advance quickly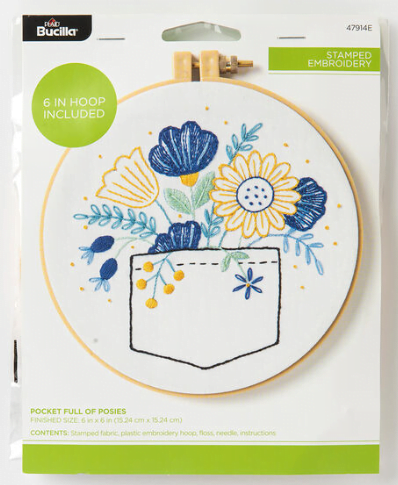 This pocket full of Posies Embroidery kit is ideal for a beginner as it uses a lot of outlining stitches! These are vital and one of the most used stitches in embroidery so it is essential to learn them.
Create this beautiful geometric design with this embroidery kit. Ideal for a beginner due to being repetitive and using fewer different stitches. This kit has everything you need to make this design.
This design is beautiful. This kit has everything you need to make this Cup full of GFlowers designs. This is ideal for beginners as it uses just a few different stitches. It is almost guaranteed you will be a pro in the stitches this one uses due to its repetitiveness of it!
This beginner embroidery kit is great, not only do you learn stitches but you personalize it. Personalization is a great skill to learn, not only is sets you up to make your own embroidery patterns in the future, it gives you some freedom too. By the end of this kit, you will have memorable wall art for your newborns' room.
This kit is extremely basic so perfect for a beginner. It can be personalized with a name and date of your choice. Everything you need is included to make this cute animal design
I just had to include this, because I am absolutely in love with this design. This Creative Hands Embroidery kit is ideal for a beginner as it uses quite basic embroidery stitches to make this awesome design. Seriously one of my favorite embroidery kits out there.
I love having positive quotes on my walls. So I just had to add this quote embroidery kit to the list. Ideal for beginners as it uses beginner stitches. This embroidery kit has everything you need to make this positive quote design.
And that's the list of Embroidery Kits for Beginners
I hope you have been able to find the perfect beginner embroidery kit for yourself and I wish you the best of luck on your embroidery journey. Embroidery is a beautiful art and should really be practiced more. I have a lot of different resources available to learn embroidery on my blog. So why not stick around and check out some other posts? Leave your voice in the comments, I look forward to hearing from you.
If you enjoyed this post and want to learn embroidery, why not try one of my others
Want to Support Me?
You can support me by checking out my Etsy Shop, I sell a variety of different things on there, from sewing patterns to original paintings.