This is a step-by-step tutorial for how to make an envelope pillowcase in under 10 minutes! I find envelope pillowcases far easier and faster to sew than those with a zip, they also look a lot tidier as well! ….and they are comfier to lie on.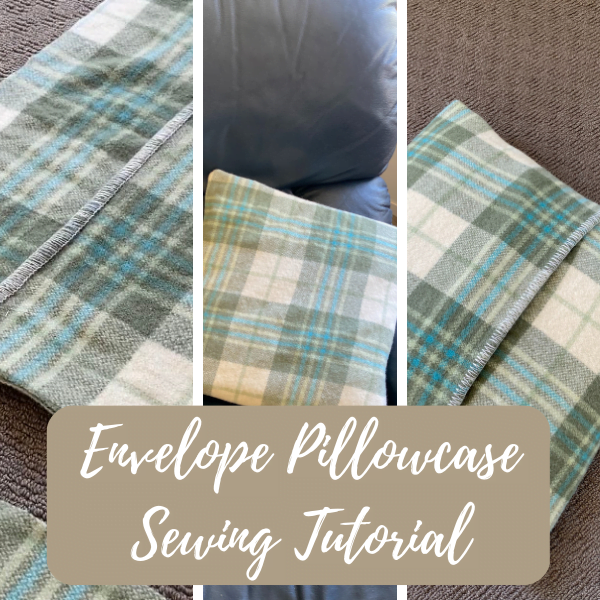 Check out this Envelope pillowcase I made out of an old woolen blanket! I made this pillowcase in exactly 7 minutes! super fast and easy. A perfect project for beginners. I am planning to sell these woolen pillowcases at my local craft market because they are so fast to sew that it makes the perfect item to sell!
Let's get started!
This is what you will need to make your envelope pillowcase!
The fabric of your choice ( I used an old woolen blanket)
Pillow inner
Sewing machine
Step 1: Measure your Pillow Inner, and cut the fabric.
My Pillow is 17×17 Inches but I allowed 1 inch for a seam allowance so I cut 18×18 Inches
Step 2: Cut the 2 back panels for your envelope pillowcase
cut another piece of fabric with the same width as your front panel but add 4inches (18x22inches) then divide the 22 by 2 (18×11 inches) This is the measurement for the back panels that I used
Step 3:
Now hem one length of the back panels. I didn't have to hem mine as I used the natural blanket hem that was always there.
Step 5:
Stitch the front panel to the back panels, right sides together. Make sure the hem isn't on the outside of the pillow edge as the hemmed length of the back panel will be the mouth of the envelope
Line up the panels and sew them together. Sew right around the outside
Step 6:
Trim the seams
Step 7: The Envelope Pillowcase is finished!
Turn the right way out and insert the pillow inner.
You know have a super cute envelope pillowcase!
If you enjoyed this tutorial, check out some of my other sewing tutorials and crafts:
How to Make a Scrunchie | Easiest Method
How to Sell Your Crafts on Facebook
30 Unique DIY Gifts for Adults and Craft Lovers
You can follow me on Pinterest here, I am always doing new crafts and projects