A crochet bookmark pattern is a great beginner crochet project. This crochet bookmark pattern is one of the first things I learned to crochet when I was new to crocheting. It is very simple and the pattern is so easy to adapt to any size book. These days I just make these bookmarks for Christmas and birthday gifts ( nothing quite like a handmade gift! ). This bookmark is for a sunflower but you could change the colors of the petals and middle and make it any colors you want. I chose sunflowers because I love them and they are also one of my favorite things to embroider.
This post has a free pattern for a crochet bookmark sunflower
Sunflower Crochet Bookmark Pattern
Let's get started with how to make this bookmark. But firstly I recommend looking over the free crochet conversion chart UK to the US so you don't get confused in the process.
Free Crochet Conversion Chart US to UK
If you are learning to crochet reading the patterns can be so confusing and honestly just off-putting, so I created a free downloadable conversion chart to help. This conversion chart has all the most common crochet terms. The chart contains the symbol, the full written word, the US term, and the UK term. This will make your crochet pattern reading a lot easier.
Crochet Conversion Chart UK to US | Free PDF Download
Let's get started with the sunflower Crochet Bookmark Pattern
Firstly you will need to learn which stitches we will be using to make this bookmark.
This Sunflower Bookmark is made up of four parts, the stem, leaves, middle of the flower head, and petals.
Abbreviated Terms
All terms in this tutorial use the US format
SC – Single Crochet (UK: dc)
DC- Double Crochet (UK: tr)
HDC – Half Double Crochet (UK: htr)
MC – Magic Ring
TR – Tripple Crochet (UK: dtr)
CH – chain
SS – Slip Stitch (UK: sl st)
The Stem:
Chain length desired
SC from 2nd stitch from hook ( leave 12 chain stitches (3 INCH) at the bottom for the leaf…depends on the yarn and hook size)
Getting the length right…
The stem is simply a chain with single crochets. To get the right length of chain as per the book, measure the book length, and add around 3 inches to the bottom for the leaf and 2 inches to the top for the head of the flower.
I think I did around 60-70 chains, the book I made this bookmark for is very large.
Once the chain is made, single crochet along the chain starting from the second stitch down from the chain on the hook. This will thicken your stem. If your book is quite small, I recommend missing the single crochet step to thicken the stem, just leave it as a chain. Make sure to leave a long enough tail to sew in the ends.
LEAF:
Carry on from the end of the Stem Chain. (10-12 stitches )
HDC
HDC
DC
TR
TR
DC
DC
HDC
HDC
SC
SC
Then Reflect the pattern and start crocheting from the bottom of the leaf to make the other side of the leaf
For the smaller leaves at the top by the flower head, simply just do the 10-12 Chain stitches and then just do the pattern once, without adding the other side of the leaf. make two of these.
Middle Flower Part:
Again with this middle part, you can make it as large or as small as you like, keep increasing the circle until your desired size! For this bookmark I made, I used a slip stitch to join each round, but this is optional again, just make sure to use a slip stitch to close it off at the end of the last round.
MC
CH 6
SS to join
INC
SS to join
SC,INC
SS to join
Leave a long tail to sew in later.
Flower Petals:
The Flower Petals is actually just a long chain, which makes this pattern great for beginners.
Attach different colored yarn to any outside stitch on the middle flower part.
SC 1 round
CH 10 (You can choose how long you want your petals to be)
Join the Chain back to the same place with SS
SS to go to the next stitch,
Repeat the process until you complete the round
Tie off and leave a tail.
Firstly attach the two smaller leaves close to the top of the stem, then attach the stem to the back of the flower head. Sew in any yarn left out.
The Crochet Bookmark Pattern is ALL DONE!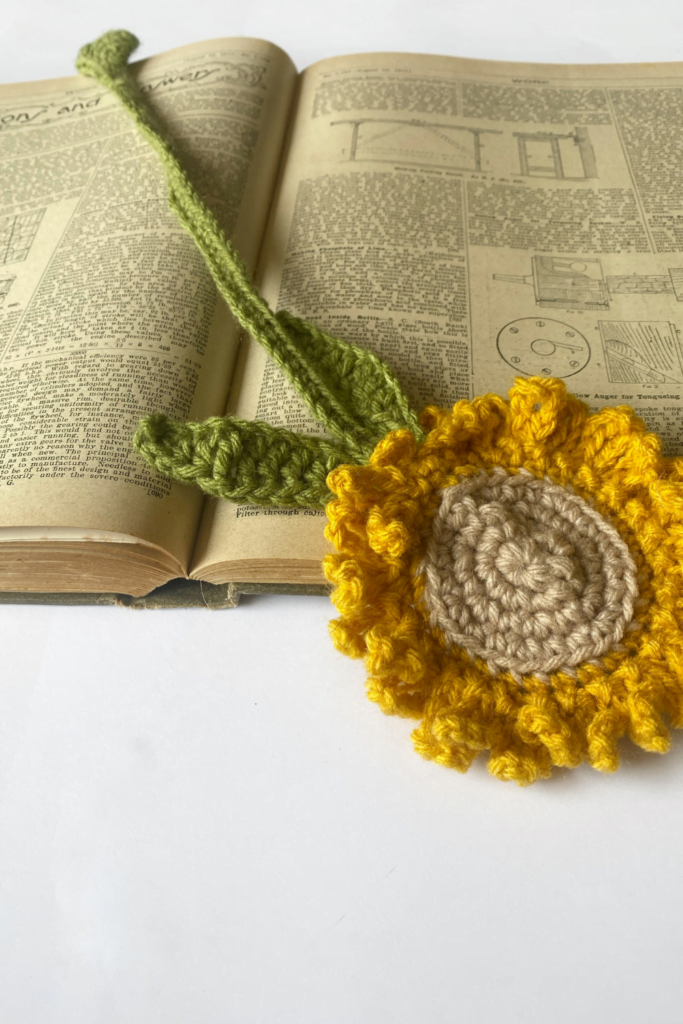 What Else to Take Away…
So your crochet bookmark didn't turn out as expected? That's okay, keep going with it. Here are some useful tips to help you succeed.
Granny Squares are Good Practice!
If you have never made anything on Crochet, I recommend that you start by making a simple granny square, this will be good practice for learning how to hold the right tension so your stitches are even and hold nicely.
The Hook and Yarn Size Matter
The hook size really does matter, and the yarn size matters too. They should match each other! Having yarn that is made for that crochet hook makes the world of a difference when learning to crochet. This is because the yarn will stay hooked a lot easier making it less work for you!
Your Crochet Bookmark Pattern Probably won't be Perfect
To start with as a beginner in crochet, your end result probably won't be perfect. In fact, it might not turn out at all. And that's okay! Keep Practicing, a lot of people gloat on social media about how easy crochet is, but I guarantee when they first picked up a crochet hook it didn't come naturally to them either. Keep practicing and you will be making anything your heart desires in crochet in no time.
Still Need Help with Crocheting?
If you are still having trouble picking up crochet, then I really recommend this video series, completely free last time I checked. It's very useful for people wanting to master crochet.
How Did Your Crochet Bookmark Pattern Turn Out?
This Sunflower Crochet Bookmark is so simple to make and has a great beginner pattern! I love how adaptable it is to any book size. If you are a beginner and it doesn't turn out perfect that's okay, keep trying and stay consistent!
If you enjoyed this post, you might also like…
Would love to see your results from this. I am thinking about making a video to go along with this blog post!