Enjoy this list with some of the best free beginner hand embroidery patterns perfect for a beginner. This list contains a nice selection of festive, floral, animal and other patterns. These are simple patterns, containing simple stitches perfect for someone learning to hand embroider. Some of these patterns are just outlines and others are fill in or floral.
Most of the patterns, use chain stitches, back stitch, lazy daisy, wagon wheel and a few other very simple stitches. However if you need extra help with some of these hand embroidery stitches see some of my other blog posts for step by step tutorials with pictures to help you. In these articles below should cover majority if not all of the stitches used in these patterns!
Useful Hand Embroidery Tutorials, Step by Step with Pictures
5 Useful hand embroidery stitches
How to Embroider Embroidery Leafs
A Tutorial for 3 Basic Hand Embroidery Flower Stitches
Now lets get on to the list, most of these patterns have a free downloadable pdf to go along with it which is great, they mostly have step by step instructions too, or videos which is even better!
This post is 13 Free Hand Embroidery Patterns for Beginners
1. Hand and Needle
Check out this simple outline embroidery pattern. This free pattern is a great way to practice your outlining work and increase your accuracy, it is also a cool wall hanging for your crafting area. To try this basic outline Embroidery Pattern check here.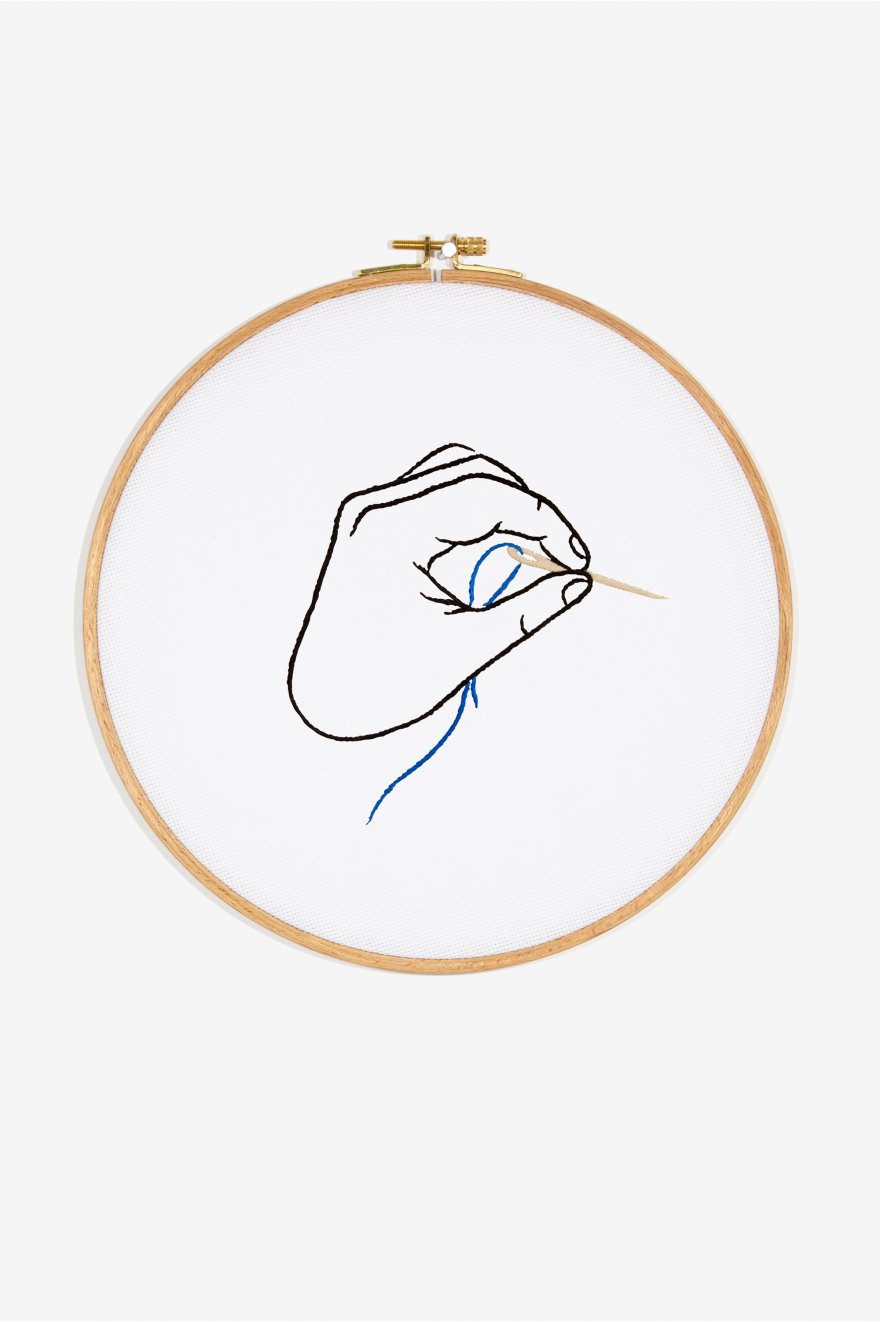 2. Embroidery Santa
Looking for something festive? how cute is this santa, uses a basic outline stitch increase your accuracy with this free embroidery pattern. To try this Santa Embroidery Pattern click here.
3. Floral CountrySide Embroidery
It looks over whelming and hard, but really its not, this mainly just uses, wagon wheel, french knot, lazy daisy and basic outline stitches. I have free step by step tutorials for all of those stitches if you need an extra hand, find them here.
The flowers on this embroidery pattern are truly beautiful and you can try this pattern out here.
4. Hello Sunshine Hedgehogs Embroidery
This is a great piece for a nursery or children's room, easy and quick to embroidery, basic outline stitch needed. Find your free pattern and tutorial here….
5. Beginner Hand Embroidery Bouquet
I think this is mt favourite pattern yet! Look how beautiful this flower arrangement embroidery is. Again this doesn't look like a beginner friendly pattern but actually it is! Very few different stitches are used! Remeber yours might not look exactly like the picture, but that's okay with a bit of practice yours will look even better than the picture! Check the free pattern out here…
6. Beginner Embroidery Flowers
What I like about this pattern is really you can embroider on any words you like. Personalising a pattern is super fun and makes it a lot more sentimental. For a free tutorial and pattern check it out here
7. The Embroidery Mason Jar Vase
This Pattern is actually perfect for a children's room, its mixed media of layering fabric and embroidery which makes it pop! Get your free pattern for this flowers in a mason jar embroidery here…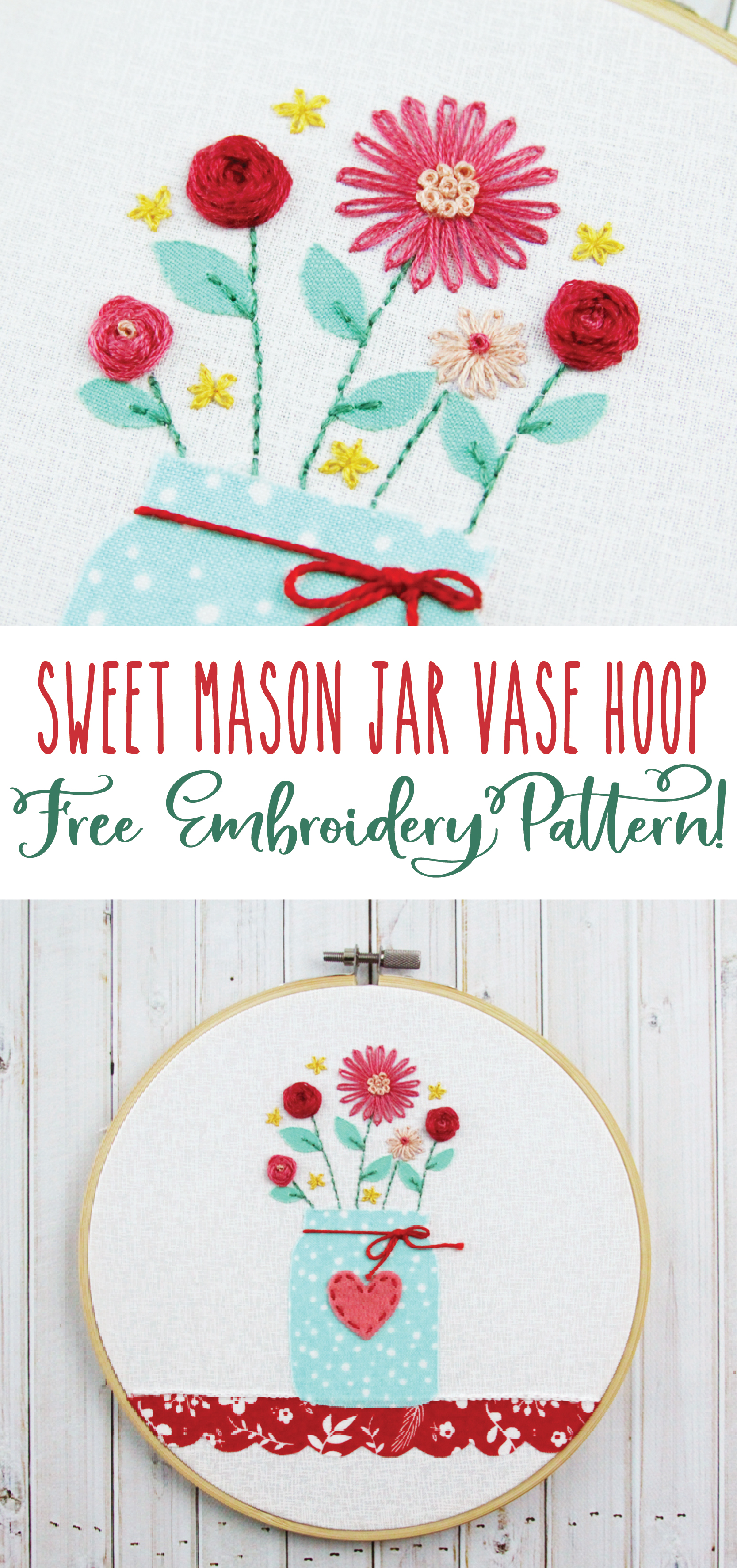 8. Cute Hand Embroidery Unicorn
Make this for your little girl or for a gift! I love this pattern, as someone who was obsessed with unicorns when she was little, I would have definitely wanted this on my wall or even would have tried to embroider it myself. For this Hand embroidery unicorn pattern check here…
9. Christmas Snowflake Embroidery Pattern
Tis the season to be jolly… This beginner hand embroidery snow flake pattern could be the perfect addition to your Christmas decorations this year! I personally love hand making my decorations for any holiday or festival, I am also guilty of handmaking most of my gifts… This snow flake is definitely on my list of things to make. Find your free pattern here…
10. Rock On Chick Free Embroidery Pattern
Rock on chick! Easy to make, uses very simple hand embroidery stitches, a simple out line stitch and then a satin stitch for the finger nails. Enjoy the embroidery pattern here.
11. Mountains Embroidery Pattern
This uses such simple hand embroidery techniques the use of structural and organic shapes is what makes it stand out. this is perfect for a nursery or for a baby shower gift. Enjoy the simple hand embroidery pattern here…
12. Cute little Cactus Pattern
Everyone really does love cacti, plants and flowers, this is a great pattern for a beginner with room to experiment on your own with it.
People also really love this because she shows how you can adapt this pattern to make a pendant. I have a tutorial here for my own hand embroidery pendant necklaces.
Check the free cacti embroidery pattern and step by step tutorial here…
13. The Five Beginner Embroidery Hearts Pattern
These 5 embroidery hearts pattern is actually perfect for a someone learning hand embroidery because of the simplisty of it and also the great variety in stithce syou get to practice and the best thing yet is you get a cute finished product that can really go anywhere in the house. This piece is also personlisable which means you could make it as an anniversary gift or just for your special someone. Find the complete free hand embroidery pattern here…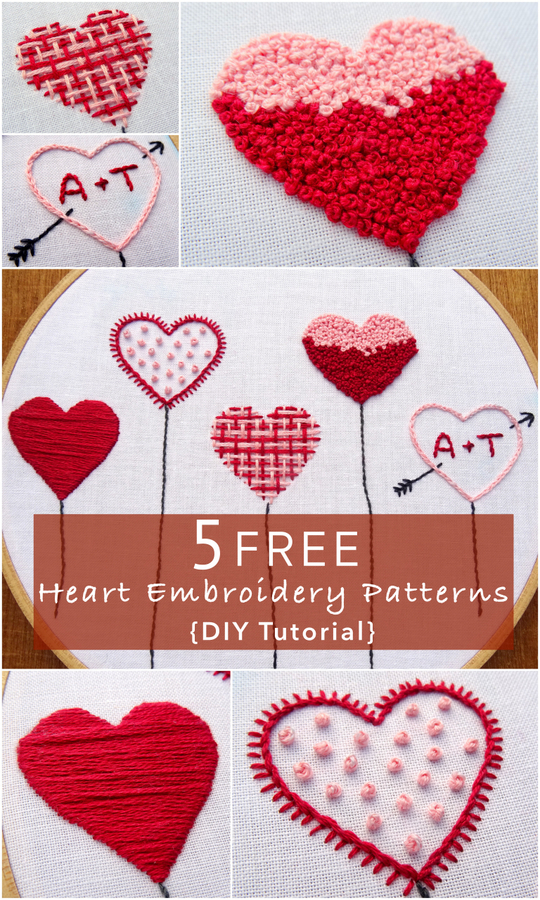 Thats all the free beginner hand embroidery patterns for now! If you need help with any of the stitches in these patterns feel free to check my step by step hand embroidery tutorials with pictures! The tutorials are sure to help you master these hand embroidery stitches used in these patterns.
Here are a few of the posts that may be helpful in these patterns:
Hope you enjoyed this post and I would love to see your results. You can reach out in the comments or via the contact form anytime.
This post has been 13 Free Beginner Hand Embroidery Patterns